I worked until the wee hours again, but I managed to finish both of my painting class assignments on time for the Friday class.
The topic for the first painting (the dark one on the left) was "space" and I decided to deal with the idea that everyone occupies an imagined world of their own. Hence the empty room (which is also the title of the piece) with a single window casting light of the outside in. The person is drawing or creating his or her own world, its monsters, heroes and conflicts. I guess it's essentially a pretty cynical view of the world. The size is about 90x70 cm.
I'm not sure if I'm happy with the piece yet, I might work on it some more later, if time permits.
The second painting was supposed to deal with modern things or modernity.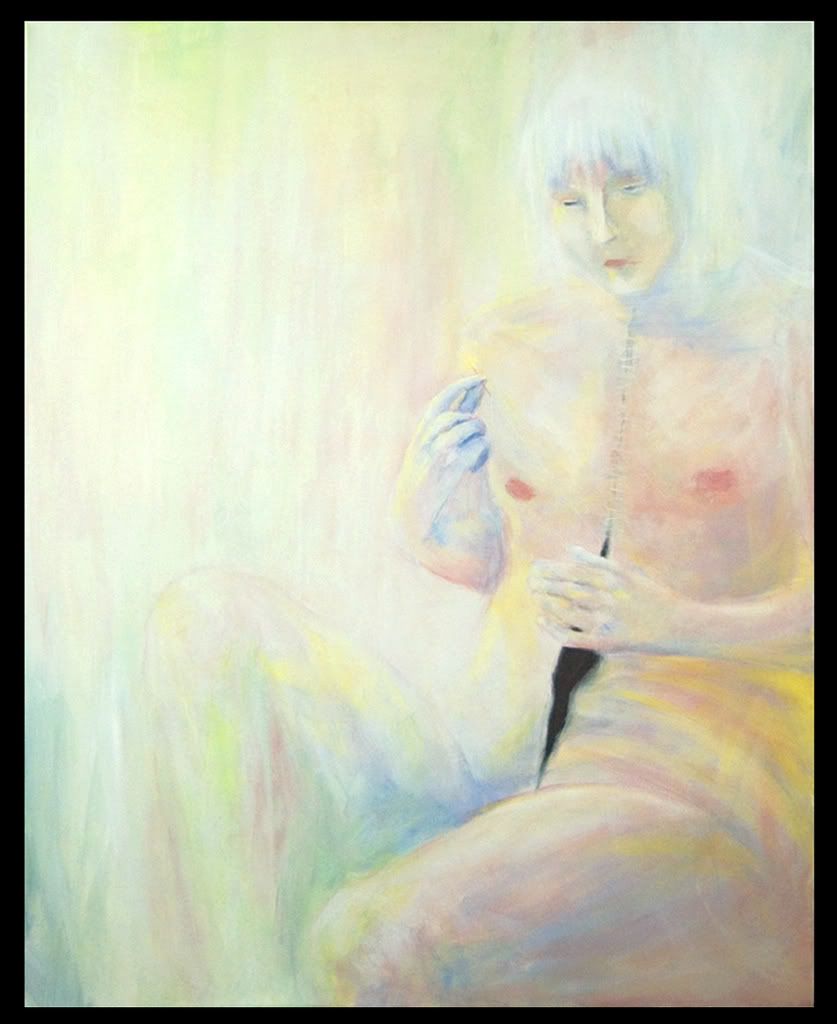 The picture is about a man who's sowing a skin on himself to fit in with the environment. So it's an attempted commentary on the need to conform and to fit in, even at the expense of one's own personality. I dunno... As I tried to paint with as little detail as possible, i'm (still at this point) fairly happy with the outcome, although some parts I'm not so pleased with. The size is about 120x100 cm, if my estimate is anywhere close to correct.
So, let's recap: my artworks of late have dealt with loneliness, feeling of being lost, internal anger, ghosts, darkness and blood, imaginary surroundings taking precedence over the real world, and about hiding your self. Hmmm. I guess if I ever find happiness, self-worth or a peace of mind, I'll be done with painting.
(I feel tempted to add "...and get on with my life.")